This post was previewed as our contribution to the bread baking day #3 which is managed by Ulrike from Küchenlatein this time. As the recipe contains not only sourdough but also yeast it was not admitted as a valid contribution. I really don't know if the recipe would have also worked without yeast due to the huge amount of soaked grains the dough contains. Nevertheless we hope that our readers like to read from our experience with this recipe.
Since we haven't realized in time that this bread baking day closes already at Saturday, September 1st, I had to hurry up to get my rye-starter working, which parked dormant in the refrigerator for a very long time.
Fortunately it recovered so far, which I really didn't expect.
Almost last-minute prior to closing time of this event, my loaves left the oven.
The bread came out pretty good, but I have to admit that I had to struggle with the softness of the dough, I thought it will never keep together 😉
Although we don't like the dark kind of rye breads to much, this one is a pretty good alternative, it is not to dark and still has the full benefit of the rye-grains. As you can see on the photo, I could not resist to take a big bite, it's pretty crunchy 😉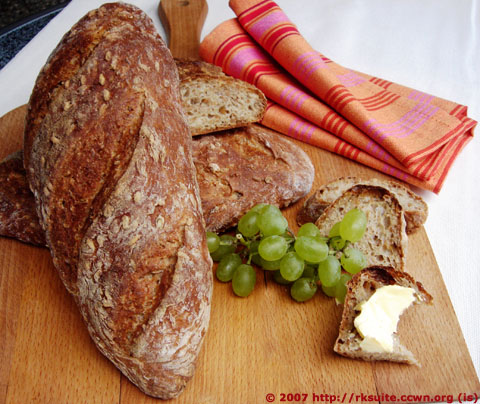 | | |
| --- | --- |
| -========= | REZKONV-Recipe – RezkonvSuite v1.4 |
| Title: | ALSACE LOAF WITH RYE |
| Categories: | Baking, Bread |
| Yield: | 3 Sticks |
Ingredients
H
FOR THE GRAINS
— (makes 300g of soaked grains)
200
grams
Whole rye grains
Water to cover
200
grams
White wine
H
FOR THE DOUGH
350
grams
White flour, type 550 – (70%)
100
grams
Wholemeal flour – (20%)
50
grams
Rye flour – (10%)
325
grams
Water at 20°C – (65%)
3/4
teasp.
Fresh yeast, crumbled – (1%)
25
grams
Honey – (5%)
150
grams
Rye leaven – (30%)
300
grams
Wine-soaked grains, drained – (60%)
1 1/4
teasp.
Fine sea salt – (3%)
25
grams
Melted butter, lard or oil – (5%)
Source
| | |
| --- | --- |
| | The handmade Loaf |
| | Dan Lepard – ISBN 1 84000 966 7 |
| | |
| --- | --- |
| | Edited *RK* 02/28/2005 by |
| | Ilka Spiess |
Directions
For the Grains:
In a small saucepan, mix the rye grains with the water. Bring the mixture to the boil, then lower the heat and simmer for 45 minutes, if necessary topping the saucepan up with extra water so that the grains are always covered by liquid. Remove from the heat, transfer the grains and remaining cooking liquid to a container and, when cool, strain (this liquid can be used in place of the water in the recipe) and cover with wine (or yoghurt or juice). Place in the refrigerator, or another cool place, overnight. Drain before use.
For The Dough:
Mix the flours lightly together and leave to one side. In a second bowl, place the water, fresh yeast, and honey, stir well and leave the mixture to sit for 10 minutes. Add the leaven (broken into small pieces) and grains to the yeasted mixture. Stir this mixture into the dry ingredients, then mix together well with your hands, squeezing it through your fingertips. When roughly combined, cover the bowl and leave it for 10 minutes. Tip the dough out on to a lightly floured work-surface, sprinkle over the salt and melted butter, and knead gently for 10-15 seconds, until combined. Return the dough to the bowl, leave for a further 30 minutes, then knead once more for a further 10-15 seconds.
Give the dough a turn and repeat every half hour for 1 1/2 hours (do not turn it at the end of this time). Divide the dough into five pieces, each just over 250 g. Roll each piece into a stick or Baguette, lay each seam-sideup on a flour-dusted cloth, and leave to rise for 1 hour.
Baking:
Preheat the oven to 210°C/410°F/gas mark 6 1/2. Carefully upturn two or three of the sticks of dough out on to a flour-dusted baking sheet, and cut three or four slashes diagonally across the upper surface. Bake in the centre of the oven for 35 minutes, until the sticks have a nice rich brown colour and, when tapped on the bottom, sound hollow. Leave to cool on a wire rack and bake the remaining bread.
=====